Experience and efficiency are two items needed to stay competitive in the commercial industry. And that's how M.P.B. Builders, Inc. can help you with your project.With over four decades of construction experience, we have the ability and expertise to take your needs and turn them into a reality. M.P.B. Builders, Inc. works efficiently from start to finish and is able to handle the entire project, including subcontractors. So to keep your competitive edge in the commercial market, call M.P.B. Builders, Inc. or contact us directly through our web site. You'll be glad you did.
Color Selector
Interested in viewing all possible color options for your building project?
Click on the link below to use our Color Selector!
Color Selector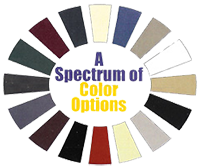 Available Colors:
Bright White
Roman Blue
Pewter Gray
Clay
Ivory
Surrey Beige
Patrician Bronze
Ash Gray
Light Stone
Autumn Red
Tudor Brown
Charcoal
Terratone
Evergreen
Brandywine
Hartford Green
Matte Black