The bond between owners and their animals is a special one. We want you to have that same experience when you work with your next building design and construction company. M.P.B. Builders, Inc. takes pride in custom designing each equestrian facility to meet your specific and personal needs. M.P.B. Builders, Inc. uses only the highest quality materials available, as well as our own skilled construction crews. With over 50 years of construction experience, we can take your ideas and build them. So whether your next building is a small stable or a professional riding arena, let M.P.B. Builders, Inc. help to bring your plans to life. Give M.P.B. Builders, Inc. a call today or contact us directly through our web site.
Color Selector
Interested in viewing all possible color options for your building project?
Click on the link below to use our Color Selector!
Color Selector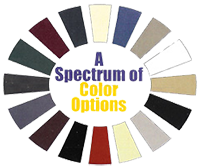 Available Colors:
Bright White
Roman Blue
Pewter Gray
Clay
Ivory
Surrey Beige
Patrician Bronze
Ash Gray
Light Stone
Autumn Red
Tudor Brown
Charcoal
Terratone
Evergreen
Brandywine
Hartford Green
Matte Black