Projects : Suburban/ Residential/ Metal Roofing
A lot of time and consideration is spent on designing your home. The same should be said for your personal storage building. That's why the building consultants at M.P.B. Builders, Inc. take the time to work with you and design your building to fit all your specific needs.So whether your looking for a garage, workshop, or a specialty building, you can feel confident knowing your building was constructed by a company with over 50 years of construction experience. M.P.B. Builders, Inc. uses only the highest quality materials available, as well as our own skilled construction crews. We supply complete customer service from start to finish on your building project. To get started with your residential project, call M.P.B. Builders, Inc. today or contact us directly through our web site.
Color Selector
Interested in viewing all possible color options for your building project?
Click on the link below to use our Color Selector!
Color Selector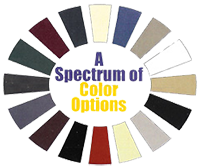 Available Colors:
Bright White
Roman Blue
Pewter Gray
Clay
Ivory
Surrey Beige
Patrician Bronze
Ash Gray
Light Stone
Autumn Red
Tudor Brown
Charcoal
Terratone
Evergreen
Brandywine
Hartford Green
Matte Black