The Golf Industry is one of the fastest growing business's around. To stay at the top of your game, call M.P.B. Builders, Inc. to design your golf structures. Let our construction experience and knowledge be your guide to designing the perfect structure. Whether you are building a clubhouse or cart storage building; retaining walls or golf cart bridges, you can count on our structures to compliment their surroundings.To get started with your next golf facility project, give M.P.B. Builders, Inc. a call or contact us directly through our website. You will be glad you did.
Color Selector
Interested in viewing all possible color options for your building project?
Click on the link below to use our Color Selector!
Color Selector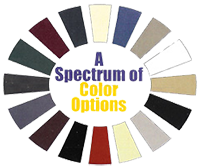 Available Colors:
Bright White
Roman Blue
Pewter Gray
Clay
Ivory
Surrey Beige
Patrician Bronze
Ash Gray
Light Stone
Autumn Red
Tudor Brown
Charcoal
Terratone
Evergreen
Brandywine
Hartford Green
Matte Black